Jumpstreet - Follow Her Home Tonight
Record Label: Metro 1984
Not available on CD as of 2015.
Personnel:
James Walsh ~ Piano & All Lead Vocals
Bobby Jones ~ Bass & Vocals
Lee Holm ~ Guitars & Vocals
Mark (Chico) Perez ~ Percussion & Vocals
Rob Steinberg ~ Keyboards
Brad Swagger ~ Drums
Additional Musicians: Pat Mackin ~ Sax Solos on (And They) Don't Even Know and Ordinary People
(NOTE: All songs are used with the permission of Gypsy.)
Songs:
Side A:
Follow Her Home Tonight 4:13 follow.mp3(805kb)
Just A Waste Of Time 4:10
How I Feel About You 5:25 howifeel.mp3(1049kb)
(And They) Don't Even Know 5:23


Side B:
Ordinary People 4:22
Someone Else Is Always On Your Mind 5:21
You Touch Me Here 3:57
New Romance (It's A Mystery) 4:05

All songs written by James Walsh and Jumpstreet except New Romance (It's A Mystery), by H. Knight and A. Fig, copyright 1979.

Gypsy Family Publishing 1984 All Rights Reserved
Gypsy Family Music, 1984 BMI

Produced By: James Walsh
Co-Produced By: Lee Holm & Kirby Binder
Associate Producer: Mark Perez
Engineered By: Kirby Binder
Recorded & Mixed at Metro Sound Studios, Minneapolis, MN
Personal Management: Brian J. Olson, New Age Artist Management, Minneapolis, MN
Photographer: Gary Cook, G. A. Cook Photography
Art Director: Linda Senechal
Location: Season On The Park, Sheraton Park Place, Minneapolis, MN
Live Production & Mix: Doug (Tato) Buss
Lighting Director: Randy Perez
Special Thanks To: John Thayer with the Thayer Brothers Band and all of his brothers. Alpha Productions: "Alex" Alexander, Jeff Holmes, Greg Stone, Bill Hughes & Reid McLean. Brian Olson, Geoff Barnett, Chuck Arthur, Phil Eder and the Iron Horse. Ron Geslin, Dan Hall, Kirby Binder and all of our families, friends and loyal supports.

This album was not recorded by Gypsy, but it is related to the group since James Walsh is in Jumpstreet. Also in the group is Bobby Jones, who appeared on "The James Walsh Gypsy Band" album and is a current member of Gypsy. Mark (Chico) Perez, a current member of Gypsy, is also on this album. The music contained on this album is typical of mid-80s rock music - heavy on synthesizers and heavy drum beat. However, this doesn't mean that the songs are bad. James Walsh's vocals are strong and easily recognizable. Two of the slower songs (ballads) standout - "How I feel About You" and "Someone Else is Always on Your Mind".
This album was recorded in 1984 on a local record label in Minneapolis, Minnesota USA. At this time, it is out of print and extremely rare. According to James Walsh, it may be released on CD in the future.
An advertisement for the JumpStreet album.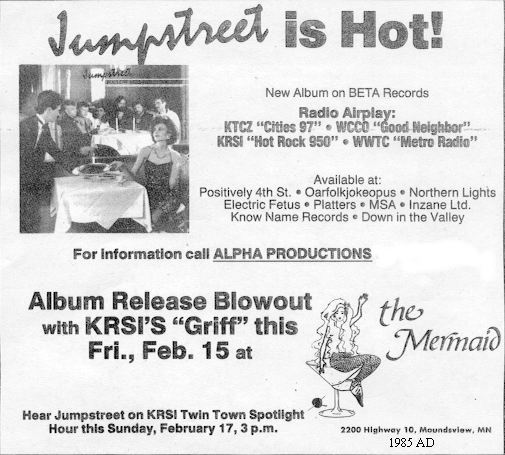 Copyright © 2005-2015 Rock Classics. All rights reserved.