Gypsy
Gypsy Record Label: Metromedia 1970
Re-released on vinyl by: Cognito 1979
Re-released on CD by: ERA Records
Released on CD by: Bedrock Records 1999 (BR 103)
Released on CD by: Gypsy 2005





Personnel: Jame Walsh - vocals, keyboards, percussion,
Enrico Rosenbaum - vocals, guitars, percussion,
Jay Epstein - drums,
James C. Johnson - vocals, lead guitar,
Doni Larson - bass





(NOTE: All song samples are used with the permission of Gypsy.)
Songs:
Gypsy Queen (Part 1 and 2) 4:21 and 2:33
Man of Reason 2:59
Dream If You Can 2:48
Late December 4:12
The Third Eye 4:55
Decisions 8:16
I Was So Young 4:00
Here In My Loneliness 3:10
More Time 5:35
The Vision 7:30
Dead And Gone 11:07 deadgone.mp3(515kb)
Tomorrow is The Last To Be Heard 5:48
The Innocence
This was Gypsy's first album and it is excellent. This album is a favorite among the group's fans. It is noteworthy that this was a double LP set since it was rare for a group's debut album to be a double set in the early seventies. The music contained on this album is an excellent representation of the Gypsy sound. The sound is heavy on guitars and keyboards with tight vocal harmonies. The songs "Gypsy Queen (Parts 1 and 2)", "Dead and Gone", and "Tomorrow is the Last to Be Heard" received the most radio airplay.
Even though this album has been re-released on CD, copies of the original album on Metromedia still command a significant price in used record stores. The re-release of the album on Cognito is usually priced a bit lower. Regardless, the Metromedia and Cognito versions are the same in content and album cover. Clean copies of the original album generally sell for about $20.00.
The gatefold of Gypsy's first album.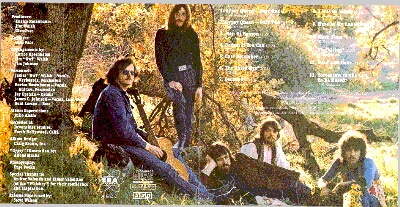 An early advertisement for Gypsy's first album.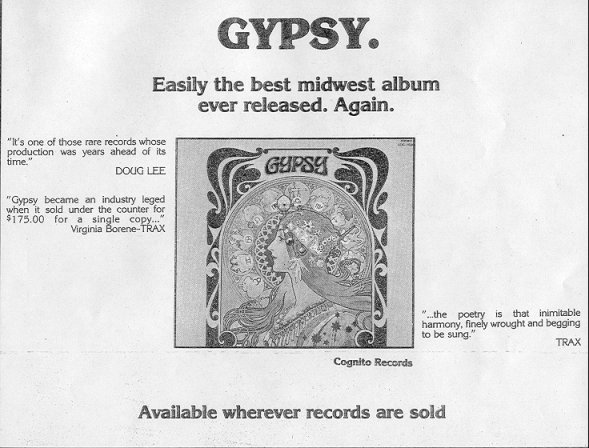 The following review of Gypsy's first album appeared in Billboard magazine in August 1970.
Billboard
GYPSY
Gypsy
Producer(s): none listed
Metromedia M2D 1031 (S)
Genre: POP
PICK
Originally reviewed for week ending 8/29/70

Metromedia is going all out by introducing this five-man group with a deluxe two-record set and the promotion should pay off handsomely since this set displays Gypsy's many strong qualities including blended voices and excellent instrumental work. "Gypsy Queen" is offered in its original version and a revised followup. "Dead and Gone" is a superior extended (11:07) number. But, all selections spell quality.
Copyright © 2005-2015 Rock Classics. All rights reserved.